2016 NLT Hawaii  Force options and Weapons retention course on the North Shore.
32 year Police Veteran.
12 year Swat Team/Entry Specialist. Police Academy Instructor for 7 years.
Master Firearms and Force Options Instructor.
State Certified LE and Security Firearms Instructor.
Founder of Arrestling Force Options Training Groups.
Over 38 years of Martial Arts/Combative Arts Training.
5 time Karate Gold Medalist, World Police and Fire Games.
Chief Instructor for SIRT Training Pistol/Bolt.
Coordinator for (CIT) Crisis Intervention Team, which prepares Police, Corrections, Fire, and Security Officers when responding to those in Mental/Emotional Crisis.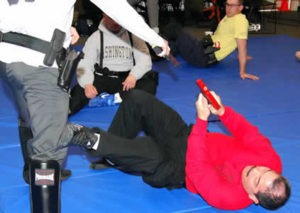 Keep watching and you will earn a grip SIRTificate.
All guns are always loaded.  Treat the SIRT like a live fire gun.

Never let the muzzle cover anything you are not willing to destroy.

Keep your finger off the trigger until your sights are on the target.

Be sure of your target and what is beyond it.  Have a good ballistic backstop when training.  So just in case some how a live fire gun got in your training space, a bullet will be caught where you are training.